Making Connections through Learning for Sustainability
---
Facilitated online Professional Learning for teachers starting 28 February 2020
Click on Register to reserve your place here on Eventbrite
Why participate?
Aligned with Scotland's education priorities and the UN Sustainable Development Goals, this professional learning will support you to develop the confidence to plan for, and implement, Learning for Sustainability in your practice, making connections at individual, school and global levels, and inspiring students to collaborate on the issues that shape our world.
Engagement in this fully funded course will:
Support you to create an enabling environment for Learning for Sustainability in your class and school and significantly enhance young people's educational experience
Inform your PRD and GTCS Professional Update
Support whole-school and community approaches to Learning for Sustainability
Give access to an international network of like-minded teachers
Created by the University of Edinburgh and Learning for Sustainability Scotland, for the British Council Connecting Classrooms programme, this course is accredited by GTCS and your engagement could lead to GTCS Professional Recognition.
Who can participate?
All teachers and early years practitioners in Scotland. You will be supported by skilled facilitators with a background in Learning for Sustainability and online learning and do not need any advanced technical expertise to take part.
What will be involved?
You can chose the level at which you'd like to participate in the programme:
Level 2 28 February – 10 April 2020
Level 3 28 February – 8 May 2020
Level 4 to GTCS Professional Recognition 28 February – December 2020
The themes and dates are outlined below:
What will be asked of you?
The course involves participation in online discussions and activities at a time that is convenient for you.
We will ask you to try out some activities and ideas with your learners and to share your learning with others throughout the course.
In addition, at Level 3, you will be asked to present your activities and reflect on their impacts and at Level 4 to submit a portfolio of learning.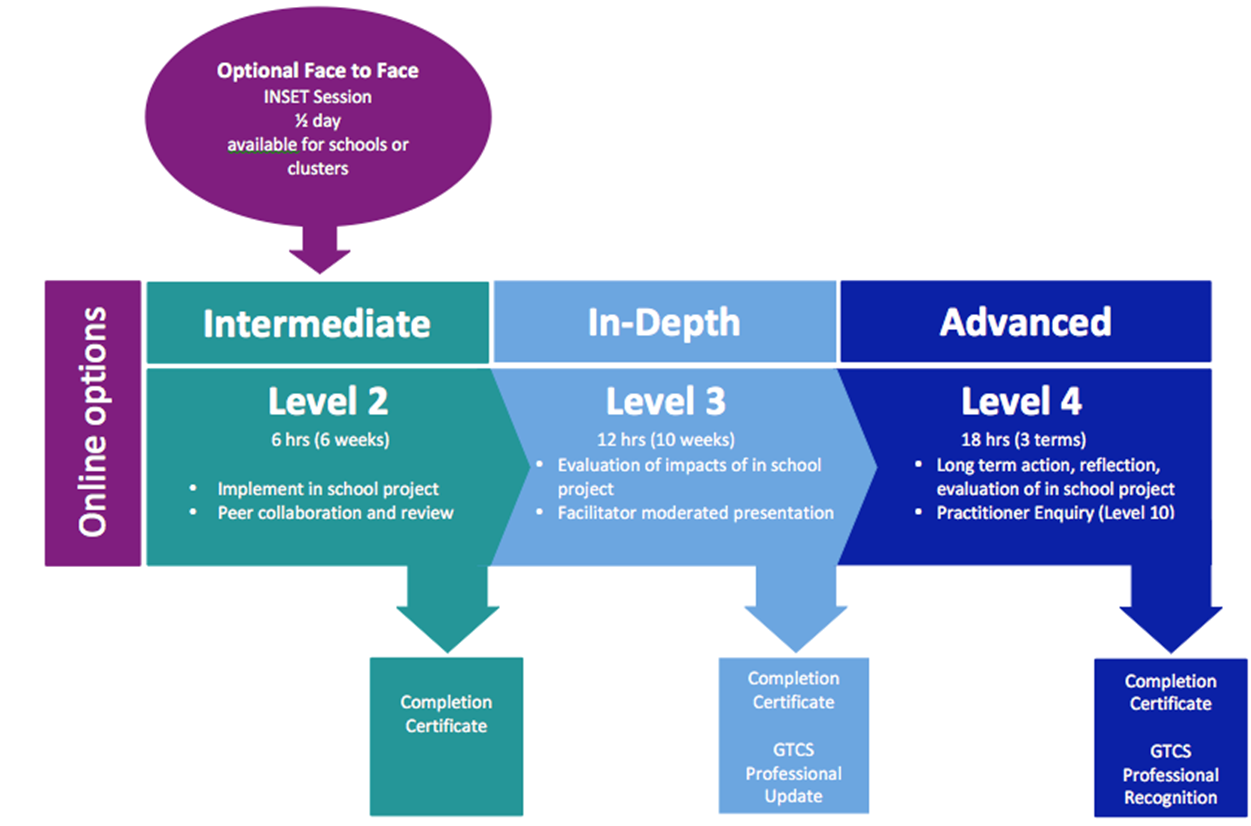 Programme Learning Outcomes
While participating in this course you will:
In the context of Learning for Sustainability and the UN Sustainable Development Goals, reflect on how to develop the skills and values required of teachers and learners to live in an interdependent world
Critically consider practical approaches to learning and teaching for Learning for Sustainability
Apply in practice and reflect on the impact of approaches to Learning for Sustainability at an individual, whole school and global level
Develop confidence in your teacher leadership for Learning for Sustainability and engage in peer learning opportunities through an established practitioner network
Click here to reserve your place here on Eventbrite .
For further information contact Betsy King, Development Manager, Learning for Sustainability Scotland, Betsyking@lfsscotland.org
---